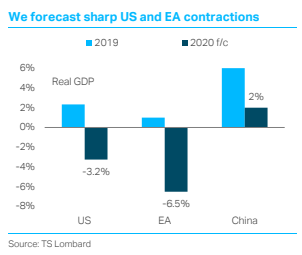 29 Apr 2020 - Oliver Brennan
One month ago we introduced our crisis roadmap as our framework to think about the evolution of the global economy, financial markets and the path of the virus over the next several months. At the time, we reckoned we.
#Eurozone
#US
#coronavirus
#Oliver Brennan
---
23 Apr 2020 - Steven Blitz
The near-term inflation outlook for the US economy is straightforward – there is none. Demand has collapsed, not supply, and there is no way that inflation will pick up until demand rises at least to meet supply. There.
#Inflation
#US
#Steven Blitz
#Dario Perkins
---